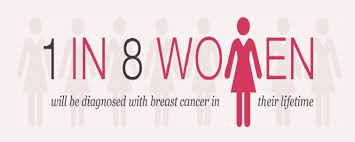 We Race Because…
One

in

eight

women in the U.S. will be diagnosed with breast cancer in her lifetime.
Because

every minute

, somewhere in the world, someone dies from breast cancer.
And because, breast cancer knows

no boundaries

- be it age, gender, socio-economic status or geographic location.
We continue to Race because at the current rate,

13 million

breast cancer deaths around the world will occur in the next 25 years.
But, when you participate and fundraise for the Race, we fight these statistics together. In 1980, the 5-year relative survival rate for women diagnosed with early stage breast cancer (cancer confined to the breast) was about 74 percent. Today, that number is 99 percent! Komen has played a critical role in every major advance in the fight against breast cancer - transforming how the world talks about and treats this disease and helping to turn millions of breast cancer patients into breast cancer survivors. This progress was made with your continued support and together we can reach our vision of a world without breast cancer.
Stories of Impact: Susan G. Komen® Nebraska
"Cassie" is a 45-year-old woman who is married with two daughters. She was grateful that her breast cancer was caught early, requiring a lumpectomy, followed by chemotherapy and radiation. She is a very private person so asking for help was an emotional experience for her. She expressed that she is usually on the giving end, so it was difficult to have the tables turned. She was so worried that the program's Patient Advocate, Cindy, would not be able to see or hear her gratitude through her brain fog and nervousness. This working mother dealt with an infection in her port incision and the emotions of hair loss from chemo. Adding to the turmoil of a cancer diagnosis, her family's furnace had to be repaired, medical bills were mounting - including an outstanding emergency room bill for her youngest daughter – car repairs were needed, and her daughter was about to leave to start college. With funding from Komen Nebraska, VNA provided assistance to Cassie while she was receiving cancer treatment, for mortgage and utility bills along with a gift card to help with clothing and groceries during the holidays. The family stated they were "stunned at the generosity" and grateful for the help.
2016-2017 Community Grant Recipient: Visiting Nurse Association // $85,000
The Breast Cancer Assistance Program seeks to ease the financial hardships involved in a breast cancer diagnosis by alleviating immediate financial needs, providing emotional support, and connecting patients with community resources. All services to the client are tailored to their particular need. Women served range in age from 27 to 87 with 67.6% under the age of 55.
Final Impact: 162 breast cancer patients from 30 counties received financial assistance
*Real name not used to protect patient privacy.
For a full list of 2016-2017 community grant recipients, click here.